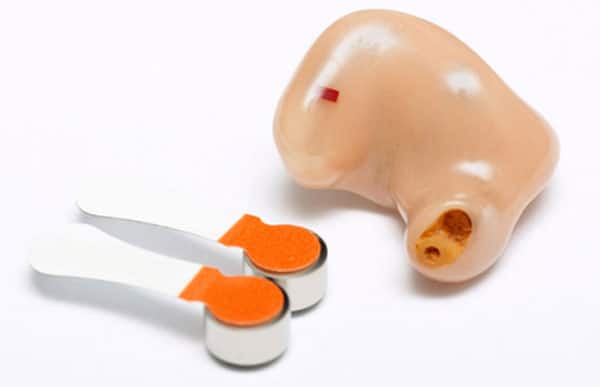 If you wear a behind-the-ear hearing aid or work in a noisy environment, you need to wear an earmold. Other professionals, such as broadcasters and pilots wear earmolds for communication purposes. Swimmers wear earmolds to protect their ears from water. No matter the reason for your earmold, here is what you need to know.
MAKING EARMOLDS
Earmolds are custom made to fit your ear perfectly. An earmold can't do its job if it doesn't fit. Whether your earmold fills the entire bowl of the ear (full shell) or just a portion of the ear (half shell or skeleton) or just in the canal, it is made from an impression of your ear. No two ears are the same and no two earmolds are identical.
The audiologist examines the ear to make sure to it is clean and healthy enough to take an impression. Defects in the structure of the ear, disease or excess earwax or skin can prevent a good impression. Next, an oto block will be inserted deep into the ear canal. This protects the tympanic membrane (eardrum). The oto block is made from cotton or foam and has a string for easy removal.
Once the ear is ready for the impression, the audiologist mixes together two materials that form a solid, pliable material when they meet each other. This mixture is injected into your ear and will take up to 5 minutes to solidify. During that time, the audiologist might ask you to move your jaw as if chewing to get the best impression. After the material hardens, it is removed and the audiologist has a perfect impression of the shape of your ear. The impression is shipped off to a factory or laboratory to create your earmold.
EARMOLD MATERIALS
Earmolds can be made from a variety of materials. The material used depends on the reason for wearing the earmold, the style and the wearer. Hard plastic or acrylic earmolds with a soft canal are used for hearing aids where the wearer has a "flexible" face that moves during chewing. Soft vinyl may be used for children that play sports and open-fit applications where allergies are not a concern. Silicone or polyethylene may be used if the wearer has severe allergie
CARING FOR EARMOLDS
No matter the material used to make your earmold, you want to keep it clean. Gently wipe the earmold with a damp cloth each time you remove it. Inspect for wax build-up. Use a wax pick or other tool to remove wax. Store your earmold in a case when not in use. Don't sit on a countertop or other surface where it can be contaminated with bacteria. At least once a week wash your earmold in warm, soapy water. If the earmold is part of a hearing aid, remove it from the tubing before washing. Take care of your earmold and it will take care of you for years.